Peartree News
Drink Of The Month - The New Red Bull Range
Everybody knows Red Bull, they've taken the soft drinks market by storm over the last decade or so. Unusually, they're also the people behind one of the most successful F1 teams ever, Felix Baumgartner's multiple-record-breaking space dive and the exploits of many, many others, including Scottish trials rider Danny MacAskill.
Danny's "breakthrough" video started just around the corner on the ramparts of Edinburgh castle, but his latest one is something slightly different - and absolutely stunning. Stay tuned until the end for proof that he does fall off sometimes!
Win A Party with Red Bull and Why Not
Why Not Nightclub on George Street is running a competition throughout October - fancy winning a party for you and 7 mates! See their website for full details.
---
Societies Central
Freshers week has been and gone and we are now the proud home of many societies and clubs, including old favorites the NFL crowd (see, special transatlantic spelling of "favorite" just for you) and cynical mates the Edinburgh Skeptics. But we still have room for more - contact us for your exclusive discounts, free room hire, and anything else we can reasonably provide.
---
New Galleries!
We've completely revamped our photo galleries which (at the time of writing) now include over 350 pics, both ours and some favourites from the Flickr community. Want to see what the pub was like back in 1985? Ever wondered what the beer garden looks like with a 20ft tall woman in a ballgown? Remember the Great Winter of 2011? Click here and check them out!
---
B-b-b-b-b-b Blue Moon
We've been selling Blue Moon for years now, and it's always been a big hit all year round. Tangy, light and crisp during the summer and mellow and lightly spiced during the winter. It's a wheat beer, hence the slightly cloudy appearance (due, we're reliably informed, to certain proteins in wheat) and has a tight, very creamy head.
Citrus peels, traditionally Curacoa oranges, are normally used when brewing a wheat beer, but Blue Moon goes with the sweeter Valencia, and adds a good dose of good old fashioned oats to add to the creamy texture.
If you're used to traditional barley based beers then this is a cracking alternative - it's a little pricier (as wheat beers always are due to the ingredients), but well worth it.
---
Free Fringe - Bigger Than Ever!
We always knew the Free Fringe movement was going to be big, and this year's turnout hasn't disappointed! The queues have, briefly, been stretching half the length of the street. Not that you'll be waiting long - not taking money and checking tickets speeds things up substantially, and the "passing a hat round" tactic seems to be working well for the performers, so everybody wins.
So get yourself over to West Nicolson Street and take a free gamble - if you like the show donate some money to the artist/s, if you hate it you don't have to pay a penny!
---
Calton Gold Launch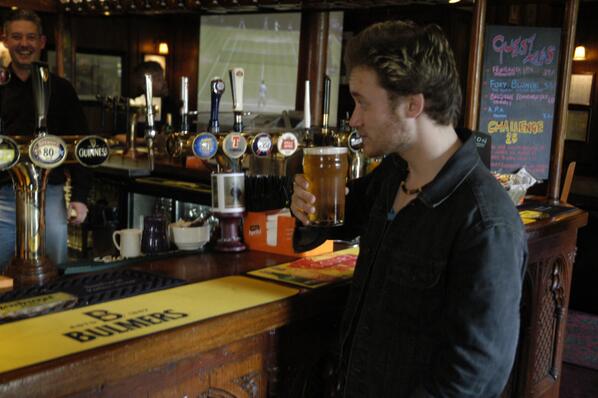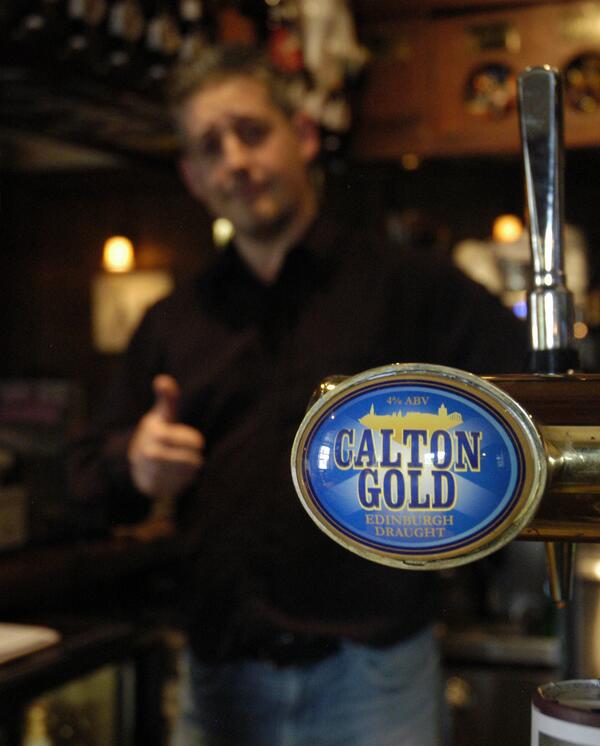 We've got a new beer in on draught, and we're very excited by it. At the time of writing, in fact, it's a Peartree exclusive, this is the only pub on the planet where you can get Calton Gold, a new locally produced lager/pilsner, craft brewed in small batches specifically for the Edinburgh market. And very nice it is too, first impressions were "clean, crisp, a nice tang to it" - it's a perfect summer's day brew, and on the launch day outsold all our other draught lagers combined.
Named after Calton Hill, and brewed just outside the bypass, it's wholeheartedly an local craft beer, created by a small team of East Scotland beer lovers and aimed squarely at the local palate, something we think they've got absolutely right if our customers' reactions are typical.
It's going to be rolled out at pubs across the city over the next few weeks, but if you fancy getting your hands on a pint we're the only stockist at the moment, so pop down and try a pint of exclusive!
Follow @CaltonGold
---
Summer Arrives!
Just as we were thinking winter was going to skip spring and summer altogether and go straight into mellow fruitfulness and misty rain, the Scottish weather has finally done the decent thing and relented! The sun is out, the flowers in the garden are getting a chance to do their thing, and we're back onto the annual argument of "Is sunscreen on optic really a stupid idea?"
So head on down and catch some rays, bask in the sunshine, or simply hide under one of our many umbrellas and watch people go from Scottish-Winter-Transparent to Scottish-Summer-Magenta before they know what's happened! (Seriously, a little sunblock isn't a bad idea.)
---
Congratulations To The Edinburgh Skeptics
A big round of applause, ladies and gents, for mates of The Peartree, the Edinburgh Skeptics.
The Skeptic Magazine sponsored Ockham Award, announced at this year's QEDcon, was given for an outstanding event or campaign over the last year, with the shortlist featuring, amongst others, the very funny Robin Ince and a global (yes, global) atheism conference.
So for Edinburgh Skeptics to win with their "Skeptics On The Fringe" event is an exceptional achievement which we'd like to congratulate them on.
They hold regular events all over the city, including upstairs in The Counting House, and are a very friendly bunch who seem to find some big names to give talks while working on a shoestring budget - if you'd like to get involved all of the relevant details can be found on their website, edinburghskeptics.co.uk/
---
The Great Edinburgh Beer Experiment
This year the 30 Days of IPA project (which we're sure you've noticed we're a part of) is doing something a little different - a scientific experiment to test one of the oldest beer legends out there, that the months-long voyage from Britain to India actually improved the flavour of India Pale Ale.
The original recipe, around a hundred and fifty years old, had a slightly stronger ABV than most IPAs have these days, and with a lot of hops added at the final stages of brewing, two measures that were designed to preserve the beer for longer than was normal for brews of the time.
It wasn't really to the taste of the time though, which was for sweet, malty ales - some went so far as to call it undrinkable - but by the time the beer had reached India it had mellowed and been transformed into a drink that could fetch high prices and would be served alongside the finest wines.
So to test this three different brewers have produced three different IPAs, two in traditional wooden casks and a third in a modern plastic lined aluminium cask. They have all been brewed to something close to the original recipe, so they should be able to survive our little plan...
One cask of each beer is currently being stored in a modern, climate controlled beer cellar. Three identical casks, meanwhile, are being stored in the hold of a small ship while it sails the Firth of Forth and the surrounding coastal waters for two months, constantly rocking the beer around and replicating some of the conditions it would have experienced in the 19th century.
But the final test is, as they say, in the tasting, which is where you, our (hopefully) ale loving reader come into the equation. We'll be cracking all six casks open on 25th of April in The Counting House, the very apt 18th Century ballroom and function suite above The Peartree. We'll then hold a blind tasting of all six beers to see if we can find any major change in the flavour and aroma.
This is a unique chance to sample some very unique beers which haven't been brewed and conditioned in this manner for nearly two hundred years, and also an opportunity to be involved in a genuinely new piece of public science! Tickets cost £12.50 (£10 for students and CAMRA members), and are available at the bar while stocks last - for your money you get six half pints and a little place in the annals of human knowledge!
---
Meet The Brewers
To launch this year's 30 Days of IPA project we're very proud to be playing host to a tun* of brewers this Easter Sunday, the 1st of April.
We'll be pouring a selection of live cask ales in the sheltered section at the back of the beer garden (the weather will be lovely we're sure, it's spring after all...) and you'll have a chance to inspect the raw ingredients and chat to the people who create one of the most life-affirming fluids on the planet!
From 2 to 4pm - after that the brewers will be "off duty" but if last year is anything to go by they'll be hanging around until the last cask is dry!
* We've got no idea what the collective noun for brewers is, but "tun" seemed appropriate. If you've got a better idea, suggestions to our twitter account!
---
---
Peartree Named As Top Fringe Bar
Societe Perrier have named The Peartree one of their top places to drink during the Edinburgh Festivals! Their reason, brilliant beer garden aside, was our location smack bang in the middle of one of the busiest areas of the city when it comes to shows. We're two minutes from George Square, Underbelly, The Gilded Balloon, the Spiegeltent and Potterow. The Pleasance and Chambers Street C-Venues are a little further away, a whole four minutes walk. And, of course, between ourselves, the Counting House and the Blind Poet, we're an major venue in our own right.
Better than that, we're one of the Free Edinburgh Festival Fringe venues, so catching a show with us will cost you precisely nothing, leaving a few pounds spare for an extra beer or a flame grilled burger from the beer garden BBQ. See you soon!
---
Beer Garden Video
We snapped this recently - a time-lapse camera on top of the stage and a sunny day in the garden!
---